How to enter flat-based rate formats into TariffEngine.
PricePoint's flexible tariff entry allows tariffs to be entered on a volume or weight basis, and rates can be entered on various units of measurement (UOM), per cbm, per cft, per cwt, and flat basis. Origin and destination tariffs can even have separate UOM.
One of the most common rate entry errors are for flat rate tariffs. Flat-based rate formats function much the same way as rates entered in a per cbm or per cwt format.

The minimum is entered in the first line. For any sizes less than your minimum, PricePoint calculates the amount entered in the first line as the minimum.


The flat amount entered in the first line is then the rate used for that volume/weight and up to the next entered volume/weigh



For example, if your minimum charge is $800 for 1000 lbs, that is entered on the first line. If your next applicable size is 1500 lbs at $1150, that would go on the next line. Any shipments weighing up to (but not including) 1500lbs will be listed with a total cost of $800. And any shipment at 1500lbs to your next line will be listed at a charge of $1150.


The last flat amount entered is applied for that entered volume/weight and for all sizes above.
Note: PricePoint's max container size for rate calculation is one 40'HC container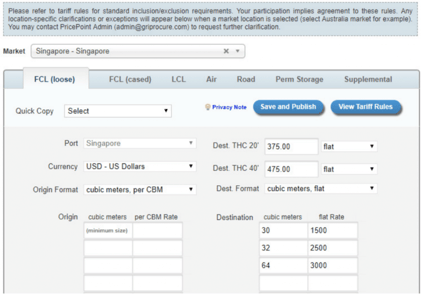 Flat rates per container size are also possible. Agents who intend to enter a flat amount per container size will need to adjust their volume/weight entry to match the calculation as set up in PricePoint.
To illustrate this in an example: You wish to enter flat destination rates per container size: 20'/$1500, 40'/$2500, 40'HC/$3000.
In the FCL loose section the minimum of 30 cbm at $1500 is entered on the 1st line. So volumes up to 32 cbm are listed as $1500 flat.



Note: this min volume could also be entered as 1 cbm or any volume lower than 31 cbm



Volumes at 32 cbm and above (up to 64 cbm) are calculated as $2500.


Volumes at 64 cbm and above are calculated as $3000.